Outsourcing IT offers time and cost savings.
Do you spend too much time dealing with IT issues?
Are you worried your sensitive files are not properly protected?
Are you seeing value from using cloud applications?
Does your firm have difficulty figuring out software you have invested in?
Many firms do not have the necessary IT or support in place to run smoothly. Staying on top of the latest technology options, cybersecurity risks, and software applications is a full-time job for any firm. The hours it would take someone to research an IT issue and find a solution could be done in a fraction of the time with an IT professional.
Aztech consulting provides personalized IT services and advice to firms who want to leverage technology to improve their work environment and succeed.
---


Let's Talk IT.
It all starts with a call to discuss what you need.
877-793-9060
Our Services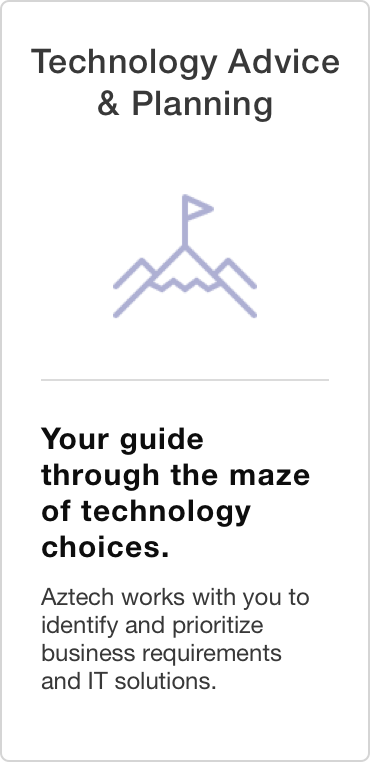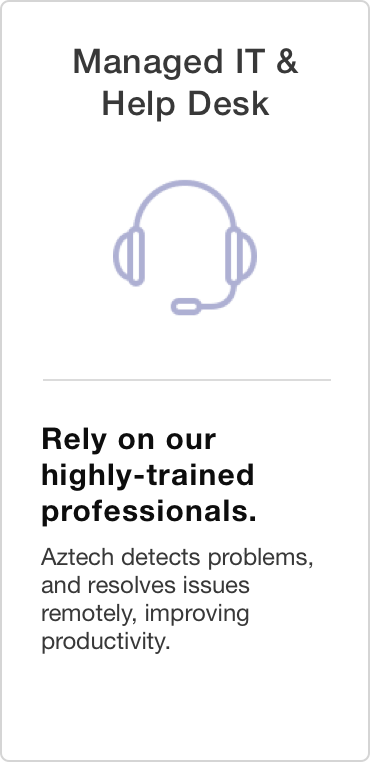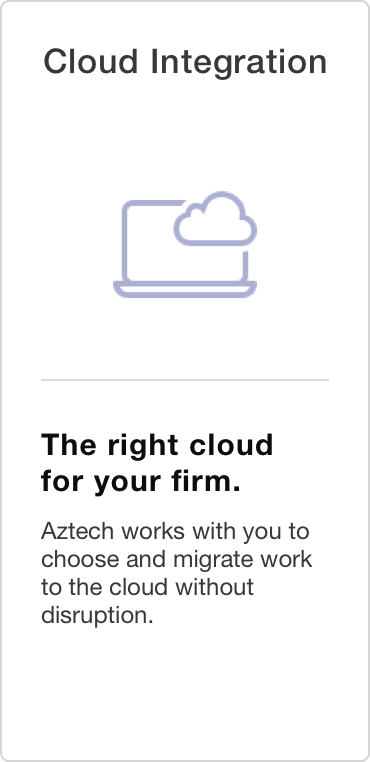 Document Management
Don't be slowed down by your Document Management system.
Increase productivity and gain new insights with the right Document Management solution personalized for how your team works.
A Document Management system is a critical system for a law firm or legal department. Getting it right the first time is essential. Whether you are starting new, updating a system that is not meeting your needs, or transitioning to a cloud environment, Aztech Consulting has the real-world experience, relationships, and know-how to smoothly guide you through the successful design, implementation, training, and support of WorldDox and iManage systems.

---

Managed IT & Help Desk
Our team is your in-house technology team.
Rely on our highly trained experienced professionals to design, implement, and manage your network and systems.
Not all firms can afford a full time IT team. Aztech provides personalized support based on the individual needs of each firm and operates as an in-house technology provider saving you time and money.
The best IT support will adapt to your firm's needs, address those needs, remain cost-effective, and scale with your firm as it grows. Aztech's goal is not only to monitor and resolve issues but develop the technology with the firm in an ongoing personalized partnership.

---

Cloud Integration
Your familiar office in the cloud
From Microsoft Office 365 to VoIP to time and billing software, the cloud is how modern firms are improving efficiency and customer engagement.
New firms are transforming how they work, and they are choosing to run a virtual office that is 100% cloud-based. Aztech Consulting works with firms that are just starting out, to deliver a full-service cloud office integrating best in class application providers.
Not all firms have the luxury of starting new. Most have some application or technology that is not cloud-ready and requires specialized support. Aztech Consulting works with established firms to identify how and where adopting cloud-based application will add the most value and provide a roadmap for migration and support.

---